This template should be used for any web application or web page that makes use of both Passport York authentication and personal/confidential user data(such as SIS data or student numbers).
For a copy of these template files contact devproj@yorku.ca.
Web pages or applications that use Passport York but do not make use of personal or confidential user data should use the standard York template and adhere to its Style Guide. It is advised that you contact UIT Development Services for an initial consultation if you are using third-party software which has limitations in the customization of templates. All pages using this template should be reviewed and approved by UIT Development Services before launch.
This is the standard template for student applications. If your application is meant for Faculty and staff only, please remove the "My Online Services" image and link.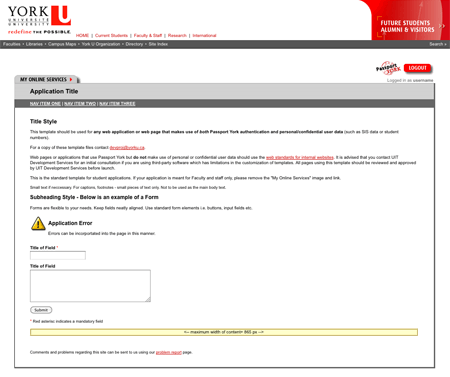 Small text can be used, if necessary, for captions, footnotes and small pieces of text only. It should not to be used as the main body text.
Use H1 for your title; H2 and lower for subheadings
Forms are flexible to your needs. Keep fields neatly aligned and use standard form elements i.e. buttons, input fields etc. An asterisk indicates a mandatory field
Errors can be incorporated into the page using an 'attention sign'
Maximum width of content: 865px